PRADEEP GUPTA
Chairman & Managing Director
A first generation entrepreneur, along with his family members promoted CyberMedia in 1982. He is a B.Tech. from IIT Delhi (1975) and MBA from IIM Calcutta (1977). He is the main promoter as well as Chairman & Managing Director of Cyber Media (India) Ltd. He is an industry veteran of 40 years and is highly reputed in the IT Industry.
He was conferred the "National Entrepreurship Award as the Best Mentor" by the Ministry of Skill Development and Entrepreneurship, Government of India as he has mentored over 150 start-ups.
He is the co-founder of Indian Angel Network. He is the Chair of the Alumni Trust, the sponsors of IvyCap Ventures Trust Funds. He is on the Board of the IIM Calcutta Innovation Park.
He was a global trustee of TiE, the world's largest entrepreneurial ecosystem. He was also on the Board of UTI AMC and its subsidiary UTI Capital.
He has been the past President of PanIIT India and Association of Indian Magazines. He is/has been on the Boards of IIT Mandi, Indian Newspaper Society, IIT Delhi incubator, etc.
He is the recipient of the Distinguished Alumni award of IIT Delhi and the Helen Keller award for working in the disability sector.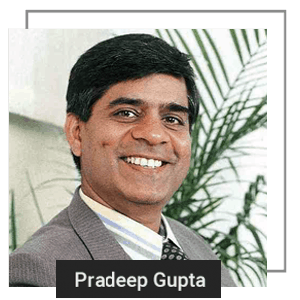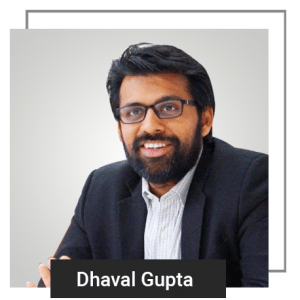 DHAVAL GUPTA
Whole-Time Director
Dhaval Gupta is the Executive Director and heads digital initiatives at CyberMedia. As a new media advocate, Dhaval has a keen understanding of media and technology space.
Dhaval has played a pivotal role in establishing CyberMedia as a leading digital services setup. He is the architect of CyberMedia partnerships with Google, Facebook, Twitter, and oversees Cyber Media Services. By building comprehensive online brand strategies, audience profiling and big data analytics, Dhaval has built a strong team based on detailed understanding of the global digital economy.
Dhaval has also played a leadership role in driving the digital transformation for media brands including Dataquest, PC Quest, Voice&Data, CIOL.com, CyberAstro.com, among others.
His other passions also include working within the startup ecosystem. Dhaval has been actively involved as a mentor & advisor to startups in field of Media, Fintech and Technology.
Dhaval is the Founder-Director of DU Beat, India's largest student newspaper. He is an investor and Board member of WittyFeed.com, India's largest viral content company.
He is a Graduate of University of Wisconsin – Madison.

PRAMOD KUMAR SANGHI
Independent Director
Mr. Pramod Kumar Sanghi, aged 61 years is an MBA from IIM Calcutta and B.Com (H) from Delhi University. He has over 38 years of experience in a wide variety of functional areas including IPO, capital markets , investor interaction, road shows, corporate governance, risk & compliance, capital appropriation-feasibility and project planning, audit, taxation and controllership, foreign exchange and investment management.
He has been President- Finance and CFO at Nucleus Software Exports Ltd. from April, 2002 to March, 2015; Senior Executive Director (Finance) at Pearl Global Ltd. from 1991 to 2002; Financial Controller at Network Ltd. from 1983 to 1991; Unit Financial Controller at ITC Ltd. (WELCOMGROUP) from May, 1980 to January, 1983; Internal Auditor at Voltas Ltd. from May, 1977 to May, 1980.
He was superannuated for Leadership role in Corporate Finance Management in India's top ranked software Product transnational.
He has been awarded as Corporate Finance Management Executive. He was the winner of CFO 100 League of Excellence 2015.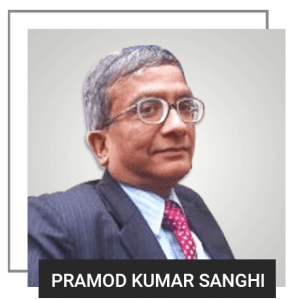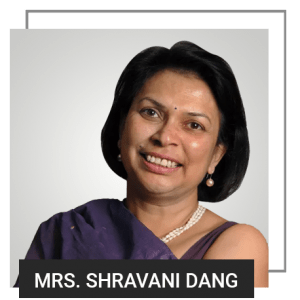 SHRAVANI DANG
Independent Director
Shravani Dang, aged 56 years is a senior Communications and CSR leader with over two decades of quantifiable achievements. Her experience base spans multinational companies across Technology, Financial, Not-for-profit and Industrial sectors, in both complex and large organizations.
Currently, she serves as the Vice President and Global Group Head Corporate Communications and Public Relations at the Avantha Group, one of India's largest and broad-based industrial conglomerate. Previously, she was Head & Associate Director Corporate Communications at Fidelity and has worked with internationally reputed brands like IT giants CSC ($17b billion) and HCL, as well as international relief and development organization CARE India. Shravani headed the CSR portfolio at Fidelity, CSC and HCL. Shravani also serves as a Member of the Board of Trustees of international NGO – Charities Aid Foundation (CAF) in India and a co-founder of Asia Pacific Association of Communication Directors (APACD) and is a frequent jury member of SABRE awards, APACD awards, IPRCC and many other Indian and international communications and CSR awards.
Reputation Today magazine recently ranked Shravani as among the top ten corporate communications professionals in the country.

K.K. TULSHAN
Independent Director
He has over 24 years of wide and varied professional experience. Tulshan is a Fellow member of
the Institute of Chartered Accountants of India.